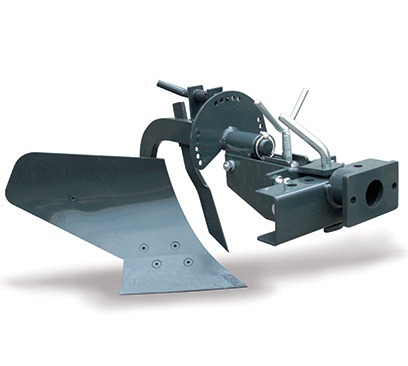 The plough is the specific attachment for turning over and fragmenting the soil for the subsequent processing or directly for sowing. In turning the soil, weeds and previous crops are buried, speeding their decomposition.

Available in single-plough or 180° swivel plough version.

The single-plough consists of a ploughshare whose function is to cut into soil. Its helical mouldboard design generates the groove by sliding the ground sideways. Positioned perpendicular to the ground, a knife is mounted in front of the ploughshare-mouldboard group, allowing it to cut into the soil itself.

The 180° swivel plough consists of two mouldboards positioned one above the other and opposite by 180° on the same rudder. The two mouldboards work alternately: when one is working the other is raised relative to the ground surface. The swivel plough allows the turning of the soil to the right or to the left relative to the inching movement. To change the direction of turning, at the end of the field make a 180° rotation of the plough.

To use the plough it is advisable to set up the two-wheel tractor with 6.5/80-12 wheels and relative weights (34 kg each).

TECHNICAL FEATURES

- Working width: 20 cm
- Share penetration depth: adjustable through the dedicated adjustment screw
- Height of the knife: adjustable
- Working angle: adjustable through the dedicated lever
- Weight: 21 kg (single plough) - 34 kg (single plough for 750) - 33 kg (180° swivel plough)



The GroundBlaster rotary plough solves the problem of ploughing and subsequent rotary hoeing, incorporating the two operations in a single passage, leaving the soil ready for sowing.

It is the ideal attachment for making the soil soft and therefore more permeable, for eliminating weeds or for the tillage of small cultivation areas where it would be impossible to work with traditional ploughs.

The use of the rotary plough up hills or on slopes gives the advantage of being able to restore the soil uphill.

It can be also used also for the creation of furrows, by performing multiple passes.

Should it be necessary to improve the balancing of the machine at work, optional 5 kg ballasts are available, which can be applied to the attachment.

TECHNICAL FEATURES

- Working width: 25 cm
- Minimum power required: 6.3 kW
- Transmission: with gears in oil bath
- Round safety guard for operator's safety
- Working depth: adjustable through the support wheel connected to the rear mounting
- Side sheet panel supplied for obtaining ridge-free cultivation and to prevent any dropping of the soil onto the nearby fields
- Optional: 5-kg each overlapping ballasts


DIMENSIONS AND WEIGHTS

Width 680 mm - Weight 50 kg


The rotary hoe is the specific attachment for working the soil in preparation for seeding, for burying vegetable residues, eliminating weeds or for weeding between rows in vegetable crops and floriculture.

It is available in size 46 cm with fixed cover or 52, 66, 80, 85 and 85L cm with adjustable cover; its structure is sturdy and reliable and no routine maintenance is required.

The tilling depth can be changed by adjusting the central knife, easily and safely, through the suitable lever (not available for 46-cm model).

An optional rotary hoe travel wheel can be fitted, which comes in handy when transferring the two-wheel tractor because by keeping the rotary hoe lifted off the ground, moving it becomes easier and less arduous.



TECHNICAL FEATURES

- Working width: 46 - 52 - 66 - 80 - 85 cm - Minimum power required: 3.5 kW (46 cm) - 4.5 kW (52 cm) - 5.5 kW (66 cm) - 7.5 kW (80 cm) - 8 kW (85 cm) - Transmission: with gears in oil bath - Working depth: adjustable through the suitable lever which operates the central knife (not available for 46-cm model) - Safety guard for operator's safety - Optional: travel wheel, adjustable ridger (behind rotary hoe)

DIMENSIONS AND WEIGHTS

- Rotary hoe 46 cm: Width 460 mm - Weight 24 kg
- Rotary hoe 52 cm: Width 520 mm - Weight 34 kg
- Rotary hoe 66 cm: Width 660 mm - Weight 38 kg
- Rotary hoe 80 cm: Width 800 mm - Weight 42 kg
- Rotary hoe 85L cm: Width 850 mm - Weight 64 kg
- Rotary hoe 85 cm: Width 850 mm - Weight 81 kg


ADJUSTMENT OF THE TILLING WIDTH

The tilling width of the rotary hoe can be adjusted by changing the numbers of knives and the width of the cover. The possible combinations are:
- 52-cm rotary hoe extensible to 66 cm
- 66-cm rotary hoe reducible to 52 cm
- 80-cm rotary hoe reducible to 66 cm
- 85-cm rotary hoe extensible to 100 cm


The 46-cm rotary hoe has no adjustment of the tilling width.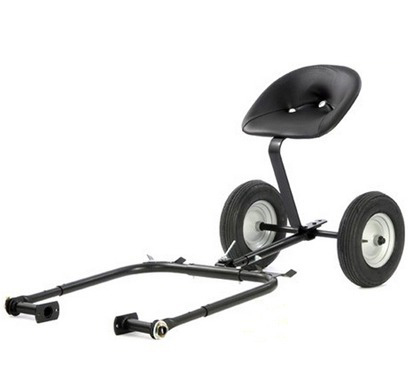 The work and travel sulky includes a two wheel frame with seat and it is designed so operators can ride while they mow.

Recommended for the larger BCS two wheel tractor models featuring a third working speed and individual wheel brakes, the mowing sulky operates front-mount attachments only (lawn mower or cutter bar).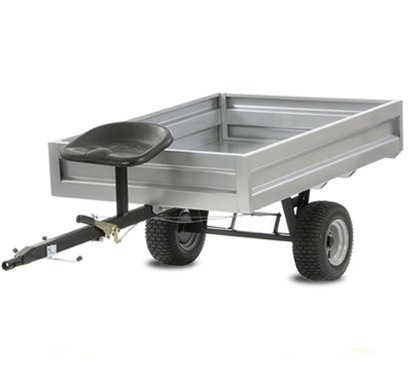 Easy to handle, quick to apply and small footprint, the towed trailer is a very useful implement to make small transport.

With 400 kg capacity and dimensions 150 x 110 x 26 cm, this heavy-duty trailer includes a padded seat along with foot and parking brakes and a removable tailgate.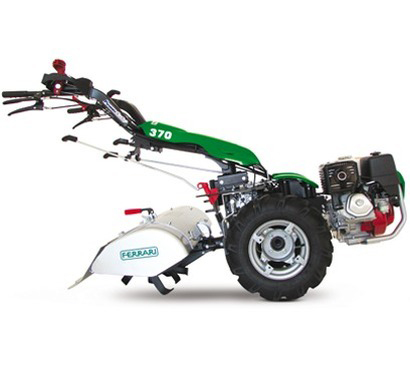 Two-wheel tractor with hydrostatic transmission | reversible and multifunctional with PowerSafe® hydraulic clutch | power up to 11.7 hp | tilling width up to 80 cm.

The 370 HY PowerSafe® is first Ferrari two-wheel tractor with hydrostatic forward motion transmission that can be continuously adjusted with 2-speed ranges.

With one lever only on the handlebar, the operator can continuously vary the speed and direction of the machine: this means an unlimited amount of gears are available for all operating requirements.

The lever control ensures high operation comfort especially during greens maintenance, snow removal and typical municipality use, which involves many direction changes.

Thanks to their handling and ease of use, the Ferrari two-wheel tractors PowerSafe® are well performing any type of use and can be used by a vast range of users: from hobby to professional farmers, and from individuals to the greenery caretaker.

The PowerSafe® hydraulic clutch, patented and exclusive to the BCS Group, also guarantees maximum reliability, comfort and total safety for the operator.

TECHNICAL FEATURES
- Hydrostatic transmission with 2-speed ranges (slow/fast) in both forward and reverse drive
- Mechanical control and neutral position provided for hand pushing
- Differential: with lock
- PowerSafe® clutch: with multiple discs in oil bath
- Independent power take-off: with engagement in oil bath
- Independent working brakes: on the two wheels with cast iron drums
- Parking brake
- Handlebar: mounted on silent-blocks, adjustable in height and sideways and reversible
- Safety devices: complying with the applicable regulations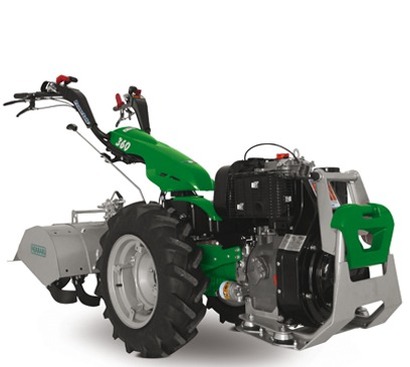 Reversible and multifunctional two-wheel tractor with PowerSafe® hydraulic clutch | power up to 12.2 hp | tilling width up to 85 cm.

The versatility of Ferrari two-wheel tractors PowerSafe® allows to fulfil all requirements pertaining to soil working, gardens' care, greens maintenance, inter-row mowing in vineyards and orchards or in uncultivated areas and during winter use, all year round.

Thanks to their handling and ease of use, the Ferrari two-wheel tractors PowerSafe® are well performing any type of use and can be used by a vast range of users: from hobby to professional farmers, and from individuals to the greenery caretaker.

The PowerSafe® hydraulic clutch, patented and exclusive to the BCS Group, also guarantees maximum reliability, comfort and total safety for the operator.

TECHNICAL FEATURES
- Gearbox: 3 forward + 3 reverse speeds
- Quick reverser to change the forwarding direction
- PowerSafe® clutch: with multiple discs in oil bath
- Independent power take-off: with engagement in oil bath
- Parking brake
- Handlebar: mounted on silent-blocks, adjustable in height and sideways and reversible
- Safety devices: complying with the applicable regulations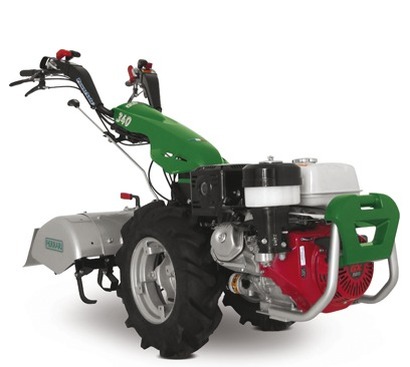 Reversible and multifunctional two-wheel tractor with PowerSafe® hydraulic clutch | power up to 11.7 hp | tilling width up to 80 cm.

The versatility of Ferrari two-wheel tractors PowerSafe® allows to fulfil all requirements pertaining to soil working, gardens' care, greens maintenance, inter-row mowing in vineyards and orchards or in uncultivated areas and during winter use, all year round.

Thanks to their handling and ease of use, the Ferrari two-wheel tractors PowerSafe® are well performing any type of use and can be used by a vast range of users: from hobby to professional farmers, and from individuals to the greenery caretaker.

The PowerSafe® hydraulic clutch, patented and exclusive to the BCS Group, also guarantees maximum reliability, comfort and total safety for the operator.

TECHNICAL FEATURES
- Gearbox: 3 forward + 3 reverse speeds
- Quick reverser to change the forwarding direction
- PowerSafe® clutch: with multiple discs in oil bath
- Independent power take-off: with engagement in oil bath
- Parking brake
- Handlebar: mounted on silent-blocks, adjustable in height and sideways and reversible
- Safety devices: complying with the applicable regulations



Reversible and multifunctional two-wheel tractor with PowerSafe® hydraulic clutch | power up to 10.7 hp | tilling width up to 66 cm.

The versatility of Ferrari two-wheel tractors PowerSafe® allows to fulfil all requirements pertaining to soil working, gardens' care, greens maintenance, inter-row mowing in vineyards and orchards or in uncultivated areas and during winter use, all year round.

Thanks to their handling and ease of use, the Ferrari two-wheel tractors PowerSafe® are well performing any type of use and can be used by a vast range of users: from hobby to professional farmers, and from individuals to the greenery caretaker.

The PowerSafe® hydraulic clutch, patented and exclusive to the BCS Group, also guarantees maximum reliability, comfort and total safety for the operator.

TECHNICAL FEATURES
- Gearbox: 3 forward + 3 reverse speeds
- Quick reverser to change the forwarding direction
- PowerSafe® clutch: with multiple discs in oil bath
- Independent power take-off: with engagement in oil bath
- Parking brake
- Handlebar: mounted on silent-blocks, adjustable in height and sideways and reversible
- Safety devices: complying with the applicable regulations